METAPHAZE, World of Magic
[Back to Cities] [The World] [The Continents] [The Governments] [The History]
---
The City of Valletta, Nekorb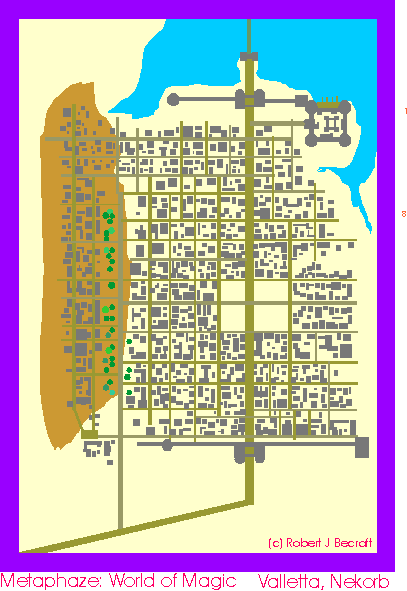 ---
The population of Valletta is 16,000 inhabitants.
The Wharf District
A small dock area administered by the city government, provides the populous with a trickle of goods from abroad. The majority of imports to the city are sent overland from other facilities beyond the control of the city tax collectors and administrators.
Valletta: Economy
Valletta as a trading center is shunned by most traders who prefer to pay to have their goods hauled overland rather than subject their ships and goods to the scrutiny of the city government officials.
Valletta is a major manufacturing center.
Its main exports are capes, diamonds, linen, gloves and beer.
Its main imports are horses, brooms, and powders.
Valletta: The Races
Valletta is one of the cities
Valletta: Traveler's Inns
Miscellaneous Businesses
Teamster
Greenhouse
Caravaners Guild
Shipwrights Guild
Cloth
Rope

Government
Valletta is governed by
Major Temples in Valletta
Wotan
Aethon
Megaira
Eos
Durga
Nataraja
Dagda
Lug
Benten
Xochipilli
Ahriman

---
© Robert J Becraft, 1996, 1998. All Rights Reserved. No portions of these web documents may be reproduced or copied without the expressed consent of the author.